It would be nice to meet again
Finally, the time has come, our window to the lake is ready and can finally be opened again. The same welcome and magic as always await you with a little more attention. To guarantee you the vacation you want, in absolute and complete security.
Until your arrival, we think it is important to inform you of the measures we have taken to protect you and our health.
SAFE WELCOME
We are always waiting for you to live the rooms in complete safety: indoor and outdoor environments disinfected several times a day with the products specified in the safety protocols, dispensers with hand disinfectants at the entrance and in various areas of the hotel.
GOOD MORNING WITHOUT CONCERNS
Varied, rich, colorful and so popular with our guests, our breakfast remains exactly the same, with an additional pampering: we serve you directly at the table or in your room on request.
FORMED STAFF
Every person in our team has been trained in protocols and measures, which must be equipped with all protective devices to welcome you and to accompany you during your stay in complete safety.
WE'RE STILL STILL THE SAME
We have taken all of these measures to make you feel welcome again. However, what awaits you is the desire to make you happy and to pay attention to every detail. In fact, maybe even more, because this forced break has given us a new energy that we cannot expect to turn into your great vacation.
We are waiting for you.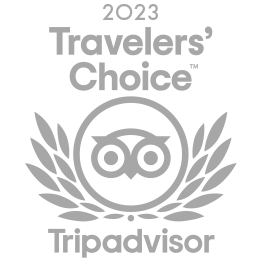 Certificate of Excellence winner 2022
Quality selection winner 2019
9.2 / 10
9.0 / 10
95% recommends
9.1 / 10